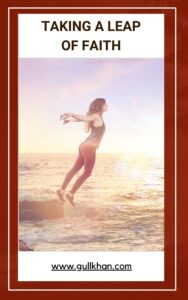 Do you have control issues?
Are you afraid of not knowing, of uncertainty?
If you're someone who is afraid of change or thinks you are on this journey of life all by yourself so your way is the only way, I have got you covered on this one.
Today I'll be talking about taking a leap of faith and ways you can do this.
According to JK. Rowling "It is impossible to live without failing at something, unless you live so cautiously that you might as well not have lived at all—in which case, you fail by default"
The saddest part of life is regrets, the "could have, should have, would have" , nothing hurts more like changes we had control over but did nothing about because of fear, you might end up the rest of your life, thinking of how different things might have turned out if only you had tried. I would rather fail than not live or at least try to live, because the regrets always sits with you.
Majority of the time, people regret things that they didn't do, the chances they didn't take. You can't tiptoe your way to the grace, which is why taking a leap of faith is important in our lives.
What does taking a leap of faith mean?
Leaping without knowing where you land, it can definitely be a bit of scary, the fear of not knowing, but it could land you to the positives, quantum leap you to your dream life. The thing about life is, it moves even as we're afraid of moving or procrastinating, it just never stands for one person.
It's about knowing who you are, surrendering to all your expectations and trusting that a greater being would look out for you. Without risks, you can't grow in life, Noone really knows what the future holds, you're never going to have all the answers yet we continue to move forward
How do you distinguish walking blindly and taking a leap of faith?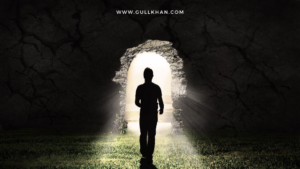 Faith has to do with a strong belief in the supernatural, in something above us, something higher than us, it could be God , Brahman, the universe, your intuition and trusting that our interests are protected.
When you have a vision, you take a leap of faith and trust that taking this step could propel you into where you're destined to be. That something above you will guide you despite your fears. Leap of faith doesn't eliminate fear in its entirety, it supports and carries you to move despite the fear and the hurdles you might encounter.
There's always a reward for faith, for entrusting and submitting yourself to the divine energy. Everything that is happening, is happening for you not just to you. You have to trust divine energy, even when you think you've failed, when your plans go as you have expected, you have to take something out of it, you don't come out the same person, you've been made into magnificent version of yourself which is going to fulfill your divine purpose, the divine plan.
Everyone has divine purpose that you're here to fulfill, and in order for you to fulfill that purpose, you have to have certain characteristics or personalities and the things you go through in life, the failures, the ups and downs are all geared to make you the kind of person that you need to be in order for you to fulfill your divine purpose to live your destined life.
See your life as a gift, and everything that is happening to you is preparing you for everything you desire but in order for you to obtain this, you have to go through certain paths. Do it the divine energy's way.
5 ways to take a leap of faith
1. State your intention clearly;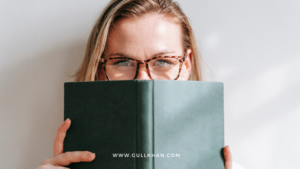 Have an idea of where you are going and be intentional. Your intentions acts a compass, a beacon of where you want to go. You need to have intentions of what you want placed, it grounds you and sets you on the direction that you're going. You can't get what you want unless you know where you're going to get this.
For me, I knew I wanted to have a business, an online business because I wanted to stay close to my kids. Initially I was working generally as a coach, I realized that as an energy healer, I'm a lot more powerful and instead of focusing on health which I was very good at, I focused on money.
Remember your intentions are not here to box you but rather guide you. So even as it grounds you, it's flexible enough that you walk in whatever route the divine energy sets you in.
So setting clear intentions are very important, you have to ask yourself;
What exactly do I want to do?
Do I want to build my own business or to work for someone?
How much would I like to earn, monthly or annually?
How much of my time am I willing to commit to this?
It all starts with a clear intent.
2. Consent;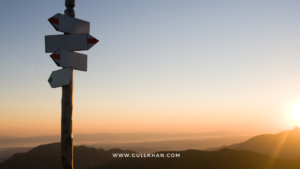 Once you have laid out your intentions, the next step is to surrender to the outcome. You cannot decide where you want to go, in which direction you want to go but how you get there is mostly up to divine energy.
Like how I decided recently that I wanted to have multiple businesses. I already have the coaching, which I love and I have my property business and my trading going for me and I wanted to have another additional business but I wasn't really sure what direction to go in. So I asked divine energy to show me what other niches I could create for myself and a few have been brought to my attention.
And that was it. I asked divine energy for guidance on how to get here. My intention was to have multiple sources of income and a lot of channels has been made shown to me.
If I can try this, you can do that. All these different opportunities that I got awareness for are simply because of this intention that I set up and surrendered to. So the destination isn't yours to decide, You just have to have the intention, " I want to go in this direction". What exactly is going happen and how you're going to get there is for divine to show you.
Allow the universe to show you the best path to get your intentions. This is what it means to surrender to the outcome. You need to give yourself the flexibility, open yourself up and to receive your intuitive guidance from divine energy. Letting divine energy guide you is very important.
3. Look for Signs and Synchronicities;
There's always a sign. When you ask divine energy for help or guidance and you ask for a sign to show you which decision to make, you'll be given signs. So recently, I asked for a sign that I'm on the right path and that I'm doing is what I should be doing and all of a sudden I started seeing double ones, the time at 11:11 and day at 22|22 and all these double digits on all the time, all the time.
So I'm taking that as a sign that I am doing what I need to be doing. So when you see these signs, you know that you're on the right path and that your faith is being acknowledged and you are being guided onto the right path. That's the third way for you to take a leap of faith.
4. There's no perfect time;
You need to actually understand that you're never going to be fully ready, your ducks are never going line up. You are never going to have the right opportunity, the right time, the right place at the same time. There is always going to be issues, with your health, or kids or partners, that's life. It's never gonna be the right time. So there's going to come to a point when you just have to take the jump. So you have to jump before you're ready, there's nothing as leaping too early, only the fact that maybe you don't leap at all.
A lot of the times people instead of leaping with faith early, they don't move at all, they just sit there, procrastinating on the edge of the mountain. The next thing they know, they are turning 80 or 90 and they feel it is too late for them now.
I think of time is the only thing we have scarcity of. You can make everything else, money but the only thing that we have a limited quantity of is time because in this our world, we do have a limited time and we don't realize how quickly the day become weeks and weeks months then years.
And next thing you know, you are thinking about something you wanted to do five years ago and haven't even started yet. I remember this happened to me, I started my podcast in June 2020 but I had been yearning and talking about it since 2018. It literally took me two whole years, just talking about it and I never got started. And then COVID happened and during the pandemic, I thought, my god, I have to start now, and we begun. We've gone from strength to strength, ever since but it's amazing that I was stuck there for the longest time because I was procrastinating. So you have to jump before you're ready.
5. Faith;
The one final way to do this is by trusting and believing, your faith will hold your hand through the darkness. You need to know that divine energy is always there through it all, for every step of the way. There's a story that comes to mind at this moment and that's it's footsteps.
This person looks upon her life and notices that most of the times, there were two sets of footsteps in the sand but for the darkest times in her life, she could only see one set of footsteps and it was really painful so she turns to God and she says "God, that's so unfair. How could you do this?"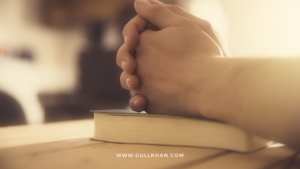 And God was like, what's wrong? And the answer is well, you know, in the times of my darkness and my darkest hour, you left me alone. There's only one set of footsteps there so that means I was alone. And God turns around and says to this woman "My child, the reason why they're only one set of footsteps in those moments is because during those moments of hardships, I carried you" . And that story has always stuck with me, it really resonates with me because that's kind thing that I would think God would say to me, "Look, that's when I was carrying you, you didn't have the energy to walk"
And I know there are many times in my life, where I've literally broken down and cried to my God to take over that I have no strength left in me. When I took the decision to divorce, I was taking a leap of faith that divine energy will provide for me, I literally came very close to bankruptcy yet I held onto my faith that divine energy will see me through and guide me, this was back in 2016 and I'm writing this in 2022. So six years ago, I caught my ex husband having an affair and my life changed, I just had this faith in my heart that no matter what happens, God will get me through and I will find a way to provide for my kids and that I'll make sure I give them the kind of education that I want to.
I took that leap of faith and I have been rewarded. I have to say it was not an easy journey moving forward. If I look back in hindsight, everything that happened created me to be the person I am today and today I have multiple businesses. I am doing phenomenally well, my kids have access to private education and we have the luxury of not worrying about bills.
I'm in a privileged position to be able to do it myself but this only happened because I took the leap of faith and trusted divine energy to show me a way to be able to make enough money to not only look after my kids but provide them with the best life possible and give them the most important thing for ne which is love and attention from their mother by not going out to work and I am doing it on my own terms.
Conclusion
Taking a leap of faith and trusting the divine energy to show you what to do and how to do it will never let you down. That even when you fail, it's a preparation for the grandeur things that are to come. You will pick yourself up and divine energy will guide you to move to the next level.
Taking a leap of faith is most times, the best thing you can do.