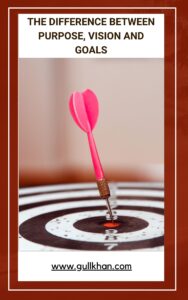 What is the difference between the three?
Why are they all important in order for you to be extremely wealthy?
These words purpose, vision and goals have been thrown around all the time especially by gurus, experts and most self-help books. Sometimes they are used interchangeably but here are my own definitions.
What is
Purpose?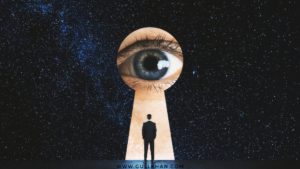 Purpose is what you were created for in life. I always say to people that the fact that you have a particular desire is the Universe's or Divine energy's way of guiding you through life for a particular purpose. Every single individual who's born on this planet has a particular purpose. Whether they understand it and fulfill it is another story but everyone has a purpose that's unique to them.
Your purpose is the reason why you came into existence, and through your desires, be it to get married, have a child, change jobs, create a business, own a car or that ring or those shoes. Whatever desire you have is usually given by divine energy. There are also times when our desires come from a lower source which is the dark side but generally most desires which will uplift us and move us ahead in our lives, which allows us to live a more comfortable and healthier life comes from divine energy. How you fulfill these desires could also be leading into the dark side. You may not recognize or understand your purpose yet but as we mature and begin to understand our intuitive side and build our connection to divine energy, we become familiar with that purpose.
That purpose in the case of Elon Musk is to create travel means, those are part of his purpose. Your purpose could be to have a family, create these great human beings who are going to go ahead and bring much positivity to the world. It could also be to create shelter for stray cats or dogs, or invent some kind of new gadget, your purpose is simply what you are here to contribute to society. We all have different purposes that's beyond who we are and it's always about giving. The bigger your purpose, the longer it might take you to get there so you need to have more patience as well.
Your purpose is part of divine planning for you, it is what you are here to do in order to help contribute to society, to humanity, to the world. It is God's plan and therefore it's bigger than you.
What is Vision?
Your vision is of what you are given and how you can live out your life's purpose and how you can create it. For example, Moses was given the vision of helping all the Israelites to escape from pharaoh, Prophet Muhammad Salah's vision was to bring this new religion Islam into being and that took a course of 23 years to complete and he wasn't given the vision till he was 40 so everyone has a vision of how they can create and they can fulfill their purpose. Purpose is what you're here to do while Vision is what you are given, how you can live your purpose, what it is that you're meant to be doing with your life. Sometimes we get confused about our vision because it is given to us, We as parents often push our own vision on our children, directing them on what they need to do or create, especially when it comes to choosing career paths. "You should be a doctor, you should be a lawyer, you should be doing this and you should be an architect, or you should create a business."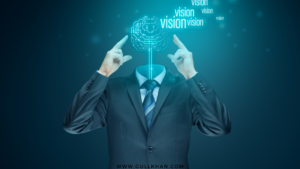 Our children need to grow with the flexibility and the ability to create their own vision, to create their own life, recognize their own purpose and create a vision thereby. Your vision is what you feel you are here to create. Elon Musk had this vision of traveling to space and has made creating the travel means his purpose, your vision could be to create these amazing wheelchairs so people can have better accessibility or it could be you wanting to go and help young women in remote places, giving education and access to quality health care to orphans.
I have this vision of myself, I truly believe that I am an advocate for money and my vision is to help every single individual adopt an amazing relationship with money and in the process build a really strong relationship with divine energy built on love and faith not fear and frustration. so I believe my purpose is to create abundance, not just for myself, but also help everyone create theirs as well. This is why I believe that I'm living my purpose through my book which is laws of money, my podcast, free seminars and paid workshops. My vision is what's helping me to live my purpose, my vision of where I want to go, this vision has encouraged me to set milestones in the form of goals to enable me to live my purpose.
Steve Jobs, his vision may have been to make everyone's life easier by reducing a laptop to the size of a handheld device we can carry anywhere. We can not only just make phone calls but also video calls.
Your vision is always about what you can create and how you can live your life's purpose. Whatever you believe your purpose to be, your vision would correlate that and would allow you to create and live up to that purpose.
What are Goals?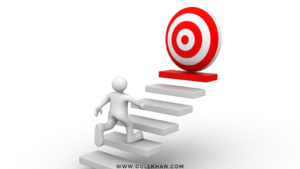 We've explored purpose and vision but what are goals?
Goals are small milestones you reach in order to fulfill your vision which is used to actually live out your life's purpose. There are God-given goals which help us to live our vision and there are good goals which come from our ego. An example is a goal to make $100k monthly or creating a business that gives you that kind of financial freedom, It may be a God-given goal because in order for you to create that income level at seven figure monthly, you have to provide a particular service or product and through that action, the divine energy may have other plans for you or the people who use your services.
A lot of times when we create this massive goal to support our vision, they are usually God's plan because in order for us to reach those levels, we have to create action and in that process live our purpose. As we are contributing to our vision, the divine energy is using us in the best way possible. So, this is why God's goals can be as The purpose behind our God's goal is to make you grow.
What happens when our vision takes time to unfold?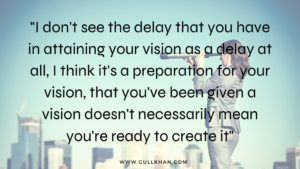 Sometimes you are given a vision and there's a delay, sometimes for months or years and you might even lose momentum somewhere along the lines, life happens. There is a correlation between the delay and the size of the vision. So the bigger the vision, the bigger the delay because in that delay, you are being given the skills required to fulfill that purpose properly. Things happen for a reason at a particular time because it's divine right timing, For example if you're meant to go to Amsterdam but you don't and you're destined to meet your future wife or future husband there. If you go to Amsterdam today, you may not meet them but if your flight gets delayed and you end up going two months later and you end up bumping into them in the coffee shop.
Sometimes we are given this vision and we have this burning desire to create the vision, we believe through that vision we're going to live our life purpose. When there's a delay, we get frustrated because of our burning desire or urgency to get it done. In my case, I remember earlier on I used to question how it was possible that I could be fooled by someone like my ex but there must be a reason why I was led to marry first Myra's father and then I was literally out of the frying pan to the fire. 2-3 months after my divorce from him, a proposal came from Ivan and then literally a couple of months after that I was married, it's unbelievable that my common sense didn't step in at any point in time and stop me from making these decisions or taking this action.
I wouldn't have my son and my daughter if I didn't marry these two individuals and I can't trade my kids for anything. Whatever the reason for it, there is a hidden purpose, maybe my training. My life has not been easy from a young age, and I remember this professor of mine, Dr. Thomas, He was my mentor and he was familiar with my story and when my cousin passed away 8 months after my mom died, my cousin was very close to me and he stepped in to help me out of my suicidal state, and 8 months later, he passed away, I was back to square one and I was in a bad state, I remember Dr. Thomas said to me "Oh my god. I've never met a more unlucky person. You've had so many things happen to you in your short span of life." I had never looked upon myself as an unlucky person and I remember looking at him and telling him, "No, it's just life. It happens. I don't think I'm unlucky at all, I still had my health, my brother…." I went on to list about 5-6 different things that I was grateful for, including him for being such a kind man, and a very great mentor to me.
I don't see the delay that you have in attaining your vision as a delay at all, I think it's a preparation for your vision, that you've been given a vision doesn't necessarily mean you're ready to create it. When you have a vision, your preparation starts, you start looking for opportunities to create that vision. The reason why you have this delay is so that you can pray and prepare for your vision. Preparation comes first and your actualization of your vision comes second because sometimes you are not of that sound mind, you may not have the strength of character needed to bring your visions to light. This is how life works.
Conclusion
If you've been questioning the divine energy and asking these questions like;
Why is there a delay if I have been given this vision?
Why can't I make it happen today? Why am I having to wait?
I have done everything, What else can I do?
Why haven't I created that million dollar business?
Why don't I have that car yet?
Why haven't I met that man/woman yet?
Why don't I have a child yet?
I want you to understand your purpose, your vision and set your goals and while working towards it, know that the reason for this delay is divinely planned preparation for you to be able to create that life and be able to create that vision in order for you to live your life's purpose. So have faith in the divine plan and divine timing to get people in the right place at the right time to create the right situation to be able to make your vision a reality.