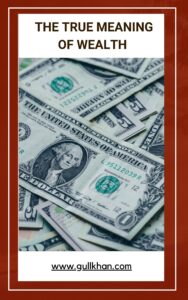 What does wealth really mean to you?
Why is wealth important?
"True wealth is not measured in money or status or power, It is measured in the legacy we leave behind for those we love and those we inspire"
This quote from Cesar Chavez really touched my heart and I thought about what I'm trying to create in my life or inspire people to. I am all about creating wealth for yourselves, abundance in all areas of your life, health, relationships, metaphysical and physical wealth. I want to have the car, the house, the life that you could possibly imagine, access to make great choices that you could possibly have, everything that money can buy for you and more.
Why is creating wealth important?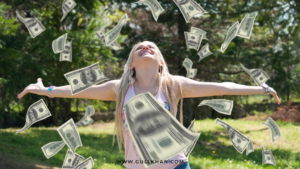 I tend to attract audiences or people who are similar to myself, it's not just about creating wealth. You want to create generational wealth, a legacy that you can leave behind once you pass on to the next dimension. It's much more grander than your own physical need, it's really not just about the car or house or the success that comes to you, It's about creating that legacy and leaving that activity behind, inspiring others through your legacy and your work. This is what true wealth means to me, unfortunately we get so tied to the physical aspects like the car, house, fame that we forget what we are really working for. How much money do you actually need to live the life of your dreams and if you sit and work out how much money you need to live comfortably and happily, It will be nowhere near the number that you're striving to get to.
A lot of my needs are actually quite modest, food, clothing, a nice car and a decent house to live in, access to good education and healthcare. Even though I don't have any lavish lifestyles, don't gamble or drink, my needs are going to be modest compared to most ambitious People, yet I am working towards a number which might be a thousand times more than that amount that I actually need, this is because I want to leave a legacy behind. I want to create something that's bigger than myself, I want to be remembered for something, a legacy through my work, it's about helping others and inspiring others to live their best and fullest life.
There are times when I ask myself why I work so hard, why I want to achieve xyz. It's not because I want the name and the fame, I'm not an egotistical person. It is very nice to get praises but it's not what drives me. I connect with money in its spiritual form so I'm not attached to money in its physical form. What is it that gets me going? What makes me work 10 times harder than anybody else? What keeps me going when I want to give up? In those trying times when I'm exhausted, I have my goal in sight, I've cried and persevered through because I remember my vision, what wealth means to me. In the past, I have said that my children are the purpose but honestly my kids don't need that kind of money either.
The meaning of wealth can be different for everyone just as the legacy one leaves behind is different for everyone. I have a particular legacy in mind that I want to leave behind for my two children, I have other things that I want to create not necessarily for myself but also for other people, some charitable organizations that I want to support, projects for young women especially in the South Asian continent. My family is from Pakistan, my parents were born in India so I have this strong affiliation with India, Pakistan and Bangladesh as well, I know of the plight of young females from South Asia and this is part of the reason why education is so important to me because it opens your mind and gives you the ability to deal with life in ways differently. Wealth to me means having the freedom of choice and ability to help who I want to help, to be able to do the things I want to do in my short life while inspiring people around to live their fullest life too.
My children are my one motivating factor, they are both in university now, I've pretty much completed the task of raising them but that's not all I want to do but I find myself creating extra opportunities because I want to leave a legacy behind, my wealth is not going to be measured with how much money I have in the bank account or how many cars or houses I have. My wealth is going to be measured in who I've helped, what I have helped them achieve both through my works, my money and my inspiring story. My life has been a roller coaster journey from the age of five, my mother finding out about my father remarrying, being abused, my brother going to Juvie, my mother passing away and living with an abusive husband in my various marriages, yet I have carried on moving forward. I think every part of my life can inspire someone else, this is why I share everything about my life so openly, I have made mistakes, I have learnt and grown from it. There is a reason why my life turned out the way it did and maybe my story can help people and inspire them.
Financial success is simply a stepping stone to creating the kind of legacy that I want. In order for you to have the freedom to choose to do what you want to do, you have to have the financial freedom behind you, When you don't have to worry about the rent, the mortgage, the car payments, the food payments, and the utility payments, then you have freedom to choose what else you want to create with your time and the people you want to have in your life.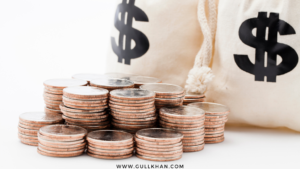 If you are currently struggling with connecting with financial wealth because this is not why money is important to you, I want you to think in grander terms and expand your mind to know what wealth means to you. Ask yourself these questions;
What would it mean for me to be really wealthy?
What would I do with my time?
What would I do with my money?
What kind of legacy would I leave behind?
What kind of legacy would I want to create?
And then focus on that picture and see how that connects with your current life at the moment, it might seem really far stretched from where you currently are at the moment but It's okay. You don't have to know how you're going to get there, all you need is to know your heart and follow your vision. My vision is beyond me and my family, I want to create this for women, especially young girls from this particular continent because I know what these women are going through, the kind of mental programming and emotional torture that they go through even at this day and age, I know this because I've experienced it myself even though I was born and brought up in the Western world.
When my mom passed away, I kept holding up to the idea of chastity and being a good Muslim girl and how this was important and choosing to cut ties with a partner who wasn't for me. They gave me hell and said i had brought shame to the family because I decided I will no longer marry this individual, and because I already brought shame to the family, I was pushed into a proper arranged marriage, I never got to know him nor see the red flags until after I was married and It was far too late. He was a highly abusive person and I remember when my second husband was insulting me, laughing in my face saying "Even after everything I have done Gull, no one is going to blame me. They're going to blame you and humiliate your kids and tell them their mother has been divorced twice."
I remember that it really hit my heart because there's some element of truth in that. In our culture, divorce is very embarrassing and humiliating especially for South Asian women and it doesn't matter if it was her fault or not, the woman is always the one blamed. In my case, the first one was highly abusive and the second one was not just abusive, he cheated on me openly, yet the society will never blame him because he's a man. As a well travelled, educated woman who grew up in the Western world, I dealt with this humiliation and it really opened my eyes to the plight of young women in South Asia communities. I had the privilege of living in London, in a Western world but what about the women who are living in South Asia?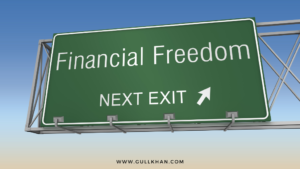 Those young girls grow up in abusive environments and they have no one to turn to, and as soon as they voice that they don't want to be abused or treated this way, the society tags them as girls with bad characters and blames them. This was when my purpose was born, the desire to create something bigger than myself and in order for me to do this, I need to create wealth for myself, to create those choices for myself, to be able to do the things I need to do for myself and others. I want to inspire and empower these girls and women to get out and make something of herself. To create this amazing life of her own, to be financially independent and I can make a difference in my life and those around me with my story.
This is going to be my legacy, and I need wealth in order for me to be able to liberate or inspire the younger generation of women. That is why I think becoming a money mindset expert was probably the best thing I could possibly imagine because not only am I doing this for myself, I'm also doing it for people around me. I work with both men and women to teach them what the true intrinsic value and true wealth is.
In working majorly with young women, we can achieve a place where no man on the planet irrespective of them being their father, their uncle, the grandad or the brother or even the son could ever devalue them.
Conclusion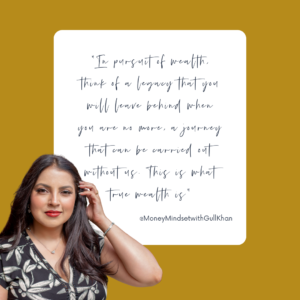 We all need wealth because it is a financial freedom. In pursuit of this wealth, think of a legacy that you will leave behind when you are no more, a journey that can be carried out without us. This is what true wealth is