Today we are going to be discussing why you need to value yourself first before you start to see your wealth.
During a recent session with my mastermind, we discussed the financial trauma of our pasts and how important it is for us to forgive ourselves for them and allow ourselves to move forward from said trauma. It was during this session that I realised how much pain and anger we as individuals hold against ourselves and how we set unrealistic standards for ourselves then get upset at ourselves for not meeting these standards.
Do you value yourself?
Generally, most of us do not see any reason to place value on ourselves and this is a terrible mentality to have when you are aiming to be wealthy. We never appreciate who we are and the unfortunate thing about this is if you do not have any value for yourself as a person then there will always be something missing in your life. No matter how much money you have, how many awards you receive, how many successful businesses you own, or whether you have a thriving family life, if you do not allow yourself to appreciate where you are now and what you are accomplishing then you will never truly be wealthy.
What is wealth?
Wealth is not determined by the amount of money you have in your bank account. Of course, I believe money should be one of your best friends; I am not going to be metaphysical and say 'happiness is your wealth' because having money is important, but truthfully there are many people who have a lot of wealth in their bank accounts and yet are still poor. To be truly wealthy, you have to have abundance in all areas of your life – your relationships, your health, your happiness, your mental health and of course your bank accounts. The true extent of your wealth does not stop at just making money so you cannot let money be your only focus in life; you cannot allow amassing money to be the source of your happiness. This realisation that there is more to wealth is what has allowed me to recognize the importance of appreciating who you are no matter the phase you are going through in your life.
You are valuable
During one of my workshops, I spoke on the difference between self-esteem and self-worth and I believe that self-esteem is something you continuously work on and strive to achieve while self-worth is independent of all your achievements, you need to make a conscious effort to accept that you are valuable just the way you are, no matter where you are in life. A pastor I listened to once explained that no matter what you have done or how much of a sinner you believe you are, God does not see you that way. Divine energy does not look down on you because you have sinned nor does Universal energy look down on you because you believe you have not lived up to your own expectations, no matter what the situation may be they are always supporting you and will always be there to guide you on the right path. Someone once told me that the universe is always trying to lead the right way no matter the wrong paths you have taken in the past, just like our satellite navigation system for example and how, when you take a wrong turn, she is always ready to readjust her directions and guide you back on your right path without looking down on you and criticising you for your mistake.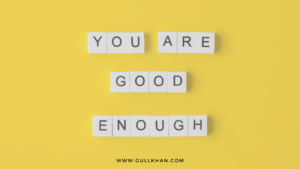 Similarly, Universal energy does not condemn you for the mistakes or wrong turns you have made in life and is always ready to put you back on the right track. There is nothing you can achieve that will make God or Universal energy love you more and there is nothing you can do that will make them hate you or dislike you either however that does not change karmic debt and the laws of sowing and reaping so if you are committing crimes or if you are attracting low vibrational energy then what you give is what you get back in return, that is universal and is the consequence of your own actions, not God punishing you.
As a child, my mother used to say that God loves us more than seventy mothers meaning God loves you seventy times more than your mother who already loves you more than anyone else in the world. This confused me because I remember thinking 'If God loves me why does He punish me when I make a mistake? Why would God not forgive me when my mother can forgive me when I do something wrong?' but now I have come to understand that there is a cause and effect for everything. God is not punishing you for doing wrong; rather, according to universal law, your actions and wrongdoings from the past are what come back and cause problems for you in the future. So in truth, you are punishing yourself later with your wrongdoings now.
Appreciate who you are
As human beings, criticising ourselves always comes so easily to us. Sometimes, even when we are doing things right we find reasons to look at the things we could have done better and criticise ourselves for them. You realise that you are constantly holding yourself to these ridiculously high expectations; asking yourself why you did not give a better presentation, whether you could have controlled your temper more, if you made all the right statements or wishing you were a better parent to your kids and this constant search for imperfections only makes you look down on yourself and see yourself negatively. Self-improvement is good, you should constantly strive to improve yourself and to remain in happiness and joy, not anger and frustration but you must also accept that you are a work in progress; if you were meant to be perfect, God would have made you that way.
We all have our individuality and our various quirks, our good, our bad, and our ugly's but all these things are part of what makes us who we are now. The problem with the majority of us is we constantly look for our imperfections and shortcomings when really we need to accept that we are having a physical experience in a physical body and therefore will always have one shortcoming or the other. We are always going to make mistakes but what is most important is that we learn from these mistakes and not have unrealistic expectations of who we need to be or where we should be heading because these kinds of expectations are what hold us back from adequately loving ourselves and properly appreciating who we are as individuals.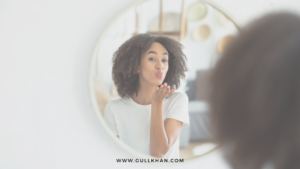 This morning I woke up and I felt like I looked beautiful. My abusive ex-husband was a textbook narcissist and being married to him was the worst seven years of my life so it took me a long time to get where I am today but this morning, I looked in the mirror and told myself that I was beautiful and that I was gorgeous. And these were not affirmations, this was me appreciating my physical body for where she is now. Of course there are still things I would like to achieve, I still want to be a smaller size and I would still like to be healthier but overall I appreciated myself and I gave her all the love and compassion that I hardly ever showed her in the past. I found that I was always looking at my body when I was uncomfortable and it was in these uncomfortable moments that I focused on the negatives and found one imperfection or another with myself but now, especially recently, I tell myself how beautiful I am and I allow myself focus on the positive parts and the things I love about my physical body. I appreciate things about myself that I genuinely and truthfully love and refuse to let these negative imperfections make me feel less than who I am. I will always strive to improve and be a better version of myself but that does not change the fact that I am perfect just the way I am. There are so many things we can improve on in life and these things are ongoing but when you look in the mirror I want you to see yourself physically, emotionally, and spiritually, and be proud of who you are, no matter your emotional scars. When I look in the mirror I allow myself to see this strong independent woman and I love her and where she is now no matter what I have been through or the emotional scars that I have, I am extremely proud of myself and that's how you need to be with yourself as well.
Nobody knows your story and no one knows what you have been through to get to this point except you so it is your responsibility to be your own best friend. The only relationship you know is going to be with you forever is the one you have with yourself; when we die, our physical bodies will remain in this dimension and only our spirits will cross over to the next one so you need to stop being so hard on yourself and criticising yourself. You need to stop beating your body up and instead, look at yourself in the mirror and show your body more love and gratitude.
Conclusion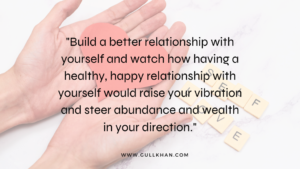 Appreciate yourself for getting up every time you fell and for all the hardships you have overcome to get to where you are now and once you start recognizing that you are a miracle and you begin to recognize your higher self constantly telling you how amazing you are, you are going to see your life transform and you are going to start to appreciate yourself for the things you are currently taking for granted. You are amazing and you deserve all the miracles, abundance, and happiness heading your way and if you do not allow yourself to feel like you deserve everything that the universe has to offer then you will self-sabotage, in one form of your wealth or the other. Strive to be a better person than you were yesterday, to help more people today than you did yesterday, to control your emotions better than you did yesterday, and as always, continue to improve yourself daily. Build a better relationship with yourself and watch how having a healthy, happy relationship with yourself would raise your vibration and steer abundance and wealth in your direction.