In a world constantly pulling us in a million different directions, it's easy to lose sight of the one person who should matter the most—ourselves. The irony is that the more we chase external validation and success, the further we drift from the treasures that lie within. This is a journey about rediscovering those treasures. It's not just about self-care or self-love; it's about understanding the profound impact that self-focus can have on every facet of your life.
The Essence of Self-Focus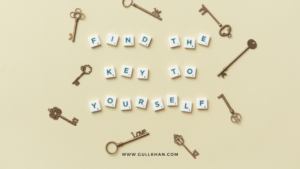 The concept of self-focus is frequently misconstrued, shrouded in myths and misconceptions. Far too often, it is mislabeled as narcissism, painting a picture of a self-absorbed individual who is devoid of empathy and consumed by a superficial sense of self-importance.
Yet, the essence of true self-focus could not be more distinct from this skewed portrayal. It is not about an inflated ego or an insatiable desire for attention. Instead, it is a journey toward nurturing one's self-worth, bolstering self-esteem, and cultivating self-love—these are the foundational pillars of inner strength that form the unshakeable bedrock of your existence.
Understanding the Pillars of Self Focus
To truly grasp self-focus, one must distinguish between its fundamental components:
Self-esteem is akin to a mirror reflecting the external perception—how we believe the world perceives and judges us. It is shaped by our interactions, accomplishments, and the feedback we receive from our environment.
Self-worth, on the other hand, is the internal compass—how we value and perceive ourselves in the absence of external validation. It is an intrinsic sense of value that remains constant irrespective of our successes or failures.
Self-love is our acceptance and care for our very being, ensuring our actions and decisions nourish rather than deplete us. It is about treating ourselves with kindness, respect, and compassion.
The True Nature of Self-Focus
Genuine self-focus is not about harboring a sense of superiority or engaging in manipulative behaviors. Contrary to narcissism, which thrives on exploitation and the need to be perceived as better than others, authentic self-focus fosters well-being, resilience, and empathetic connections with others.
It is about recognizing our own worth and nurturing our well-being so that we can engage with the world from a place of strength and compassion.
A Case Study in Self-Worth
The archetype of the nurturing mother often tells a tale of self-sacrifice, of personal needs and desires being relegated to the background in favor of others. While this is celebrated as a virtue, it can lead to an individual becoming a drained vessel, incapable of offering her best to the world or to those she loves. Self-sacrifice without boundaries can result in burnout, resentment, and a loss of identity.
This is where the importance of self-worth comes into play. Self-worth sets the standards for what we accept and what we reject in our lives. It is about recognizing our own needs and ensuring they are met, not as an afterthought, but as a priority. By anchoring ourselves in self-love and recognizing our intrinsic value, we become impervious to negativity. We set our sights only on opportunities that amplify our sense of abundance and well-being.
The Path to Focused Self-Reflection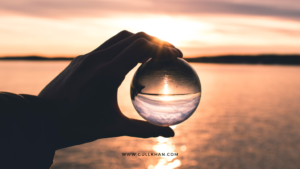 "But I am focusing on myself," you might protest, citing massages, healthy eating, or even journaling. Yet, if true abundance eludes you, it's time to examine the yardstick against which you're measuring success. Is it genuinely yours, or is it borrowed from society's skewed metrics?
Here's how you can recalibrate and truly focus on yourself:
Embrace Gratitude: Accept and appreciate the good in your life without self-doubt. Gratitude begets more of the same.
Pursue Passions: Reconnect with hobbies or explore new interests. It's not just about leisure; it's about growth.
Journaling: Use this safe space to express thoughts, list gratitudes, and track behaviors. It's a tool for self-awareness and gratitude-focused living.
The Transformative Power of Prioritizing Self
The journey inward is transformative. When we embark on this path, the effects ripple through every aspect of our lives:
Empowerment through Self-Love: In the tapestry of humanity, each of us is a unique thread. When we embrace our individuality, we uncover a wellspring of power. Authenticity becomes our strength, our shield, and our guiding star. This isn't about ego; it's about recognizing our intrinsic value and contributing our unique verse to the world's ongoing poem.
Diminishing the Shadow of Negativity: A robust sense of self-worth is like a lighthouse in stormy seas, guiding us safely past the rocks of external judgment. When we no longer hinge our happiness on others' approval, we find that negative comments lose their sting. This isn't about isolation but insulation, protecting our inner flame from the gusts of criticism.
Crafting a Positive Reality: Our inner dialogue shapes our outer experience. When we view ourselves through a lens of compassion and positivity, we cultivate a fertile ground where seeds of abundance can take root and flourish. This isn't wishful thinking; it's a deliberate cultivation of a mindset that attracts prosperity.
The Art of Balanced Living: Happiness and Abundance
In the symphony of life, I've learned to turn down the volume of external chaos. News, debates, societal expectations—I've stepped back from these not out of ignorance but from a desire for clarity. This selective engagement isn't about disconnection; it's about discernment, choosing what deserves my attention and what doesn't align with my inner harmony.
The quest for external validation is a mirage that I've ceased to chase. My compass is self-awareness, guiding me through the desert of negativity. It's essential to be mindful of the company we keep, for like a garden, our minds are influenced by the seeds sown within it. This isn't about exclusion; it's about nurturing an environment conducive to growth.
In the delicate dance of life, balancing self-care with altruism is an art. Helping others brings joy, but not at the expense of our well-being. Mastering this balance is a key that unlocks doors to happiness and, subsequently, abundance. This isn't selfishness; it's sustainable compassion, ensuring we don't pour from an empty cup.
Conclusion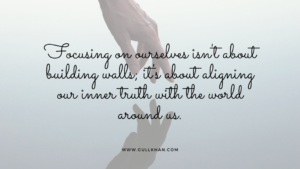 Abundance isn't a treasure at journey's end; it's a companion that walks beside us when we tread the path of self-discovery. Focusing on ourselves isn't about building walls; it's about aligning our inner truth with the world around us. In this harmony lies true wealth, not just materially but spiritually and emotionally. This alignment is the gateway to abundance, where what we give and receive resonates with the deepest parts of our being, creating a life not just lived, but cherished!